"Every bizarre story in the country now has a Florida connection. I don't know why, except it must be some inversion of magnetic poles or something." – Carl Hiaasen, novelist and Floridian
For some reason, a lot of crazy things happen in Florida. And I mean crazy. Only in Florida did we hear of dangling and hanging chads. Only in Florida did a man call 911 over 80 times demanding Kool-Aid, hamburgers, and marijuana. Only in Florida did a man accused of downloading child porn say that his cat did it, not him. Only in Florida did a strip club offer free flu shots. Only in Florida did a woman bite her daughter because she tried to turn off her Rihanna CD.
So, it shouldn't surprise us that the man who was locked for hours in an LA Fitness gym last week was a Floridian. Nicholas Clayton was relaxing in the sauna listening to music on his headphones after a workout. He didn't realize that the gym closed that day at 5pm. When he finished his sauna session, he walked out of the hot room and into an empty one.
The lights were off. The staff was gone. The gym was completely shut down and Nicholas was stuck. Some people may consider being trapped in a gym a nightmare, but Nicholas had a good attitude about it and found it amusing.
The first thing he did was call his mom. "She couldn't stop laughing," Nicholas said, so he ended that call. Then he did what anyone in a tough situation would do: he posted a video explaining his predicament on YouTube and Facebook. Incidentally, his video has over one million views.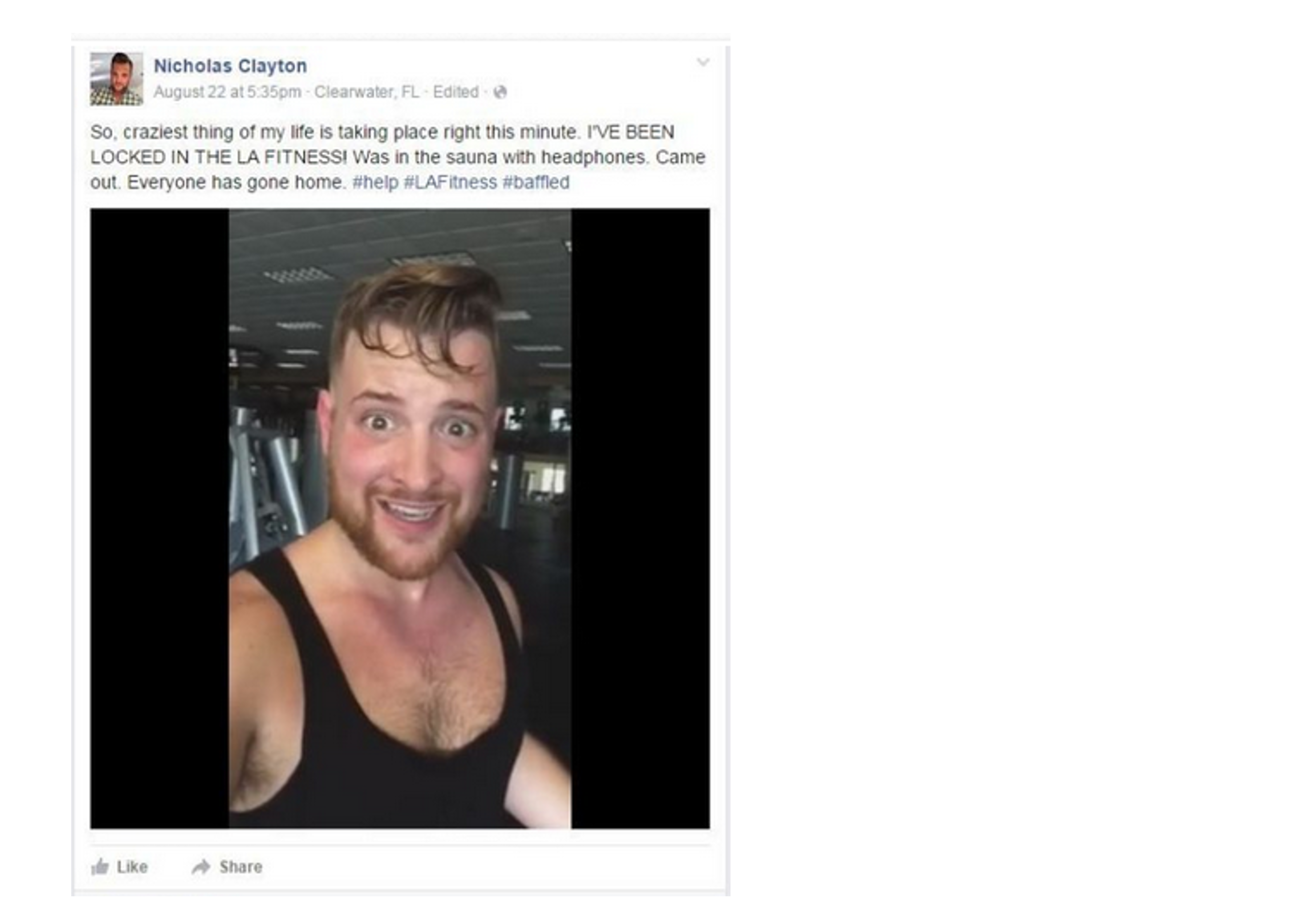 Nicholas then got in touch with another LA Fitness gym, which was open. He was told that he could simply exit the unlocked door without triggering any alarm. So he walked out. Yes, after all that it turned out he wasn't actually locked in. Only in Florida…
We'd love to hear from you. What's the craziest situation you've gotten yourself into during or after a workout? Comment below or on our Facebook page at facebook.com/flytefitness, or tweet us at @flytefitness.
Be Flyte Fit,
Jeremy Greenberg
Co-Founder & CEO
Flyte Fitness
P.S. DON'T FORGET TO SIGN UP FOR FITNESS UPDATES! CLICK THE BOX AT THE TOP OF THIS PAGE!